To view the next billing date for your hosting subscription please follow these steps:

Step 1.
Login to your Rebel account and click on My Account in the top right of the page. Then click on Subscriptions.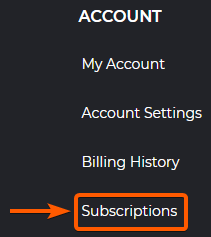 Step 2.
Below Active Subscriptions you will see a column labeled Next Billing Date that will provide you with the billing timeline.
On this page you can also review the hosting subscription(s) you have in your account (active and cancelled), billing interval (month/year), last billing date, next billing date, and the Status of the subscription.