All domains registered with Rebel include a free one-page Weebly site. If you wish to add more pages, please follow the steps below to upgrade to a full website hosting package.

Step 1.
Login to your Rebel account and select Weebly Website Manager under the My Account.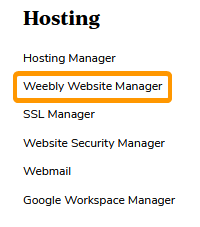 Step 3.
Select the desired Weebly website package from the drop-down menu provided beneath the Package heading.
To view details and compare the features of the Business, Pro, and Starter packages, please visit the Weebly Website Packages page.

Step 4.
Once you have selected your upgrade in the website manager, click Buy Now.

You will be directed to the shopping cart, where you can agree to the Terms and Conditions and Process Order.