Before you begin your domain transfer, please ensure that your domain is unlocked and that you have the authorization (EPP) code. If you are unsure of this process please contact your current registrar for more information. The next step to transferring your domain into Rebel is to create an account with us. If you already have an account you can skip to Step 2.
Step 1.
Visit Rebel.com and click Sign In at the top right corner of the page. On pop-up window click on Get Started and enter your email address and create your password into the designated fields. Once you complete click the Create Account button. Once your account is registered you will be logged in immediately.

Step 2.
On your main My Account page, hover your mouse over the Products drop-down menu at the top of the page and select Transfer under the Domains tab.

Step 3.
In the search bar, enter the domain you wish to transfer into your Rebel account and click Transfer.



Step 4.
Enter the authorization code provided by your current registrar, and click on the button to Add to Cart.

Step 5.
You will be taken to the shopping cart to review the order details. Once you have verified that the information is correct, check the box next to I Agree to the Terms and Conditions and Process Order.


Once payment is processed your domain will be added to our transfer queue, and will appear in the Transfer Manager of your Rebel account, which you can find under My Account on the right top corner.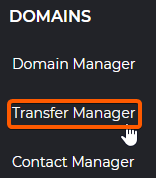 Most domain transfers should be complete within 5 days, depending on your current registrar.
If you have records that have been specifically configured with your host, you will need to re-add them once the domain has been transferred. You can adjust records in your Advanced DNS Manager.
If you require assistance throughout this process please do not hesitate to contact our Customer Experience team.