Weebly allows you to change your websites Theme as often as you like without losing any of your content. Weebly will auto-format the images and text you have already added to fit your new theme.

Step 1.
Click on the Theme option at the top of your Weebly account.



Step 2.
Click Change Theme on the left hand side to access the Theme Gallery.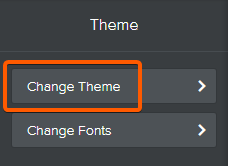 Step 3.
Browse the themes until you find one that you like, and click Preview to see how it will look with your content. If you wish to continue browsing, click Cancel at the top right of the page.

Step 4.
When you are satisfied, click Choose at the top right to switch to your new Theme.

If you would like to add your own custom theme you can do so by clicking Import Theme in the top right hand corner of the Theme Gallery.
When you would like to make your site live, click the Publish button on the top right hand corner.