To delete your domain immediately, please follow these steps:

Step 1.
Login to your Rebel account and click Domain Manager.



Step 2.
Click directly on your domain name to access the edit page.

Alternatively, if you are planning to cancel more than one domain simply check the boxes next to each domain then click Edit located above.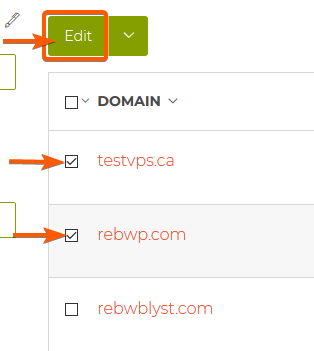 Step 3.
Once you are on the edit page, scroll to the section Cancel Domain and click on I no longer want this domain. A pop-up will appear in order to allow you to confirm.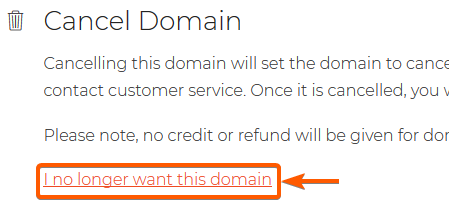 Click Yes, cancel this domain in the window to confirm.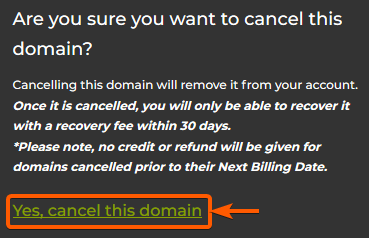 Once deleted, your domain will appear in your Domain Manager in Expired status for a duration of 30 days, in case you change your mind and wish to renew it. After 30 days the domain will go through the deletion-cycle according to its registry.

---

If your domain has a hosting subscription you will not be able to cancel it through the Domain Manager. Please follow these steps to delete your hosting service and your domain:

Step 1.
Login to your Rebel account and click Hosting Manager.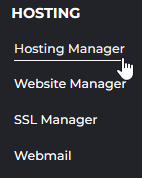 Step 2.
Click on the downward arrow button located to the right of Control Panel then click Delete Package.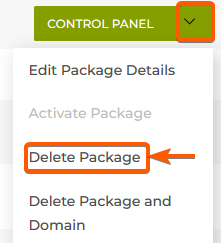 Step 3.
A message asking you to confirm will appear. Click Permanently Delete Your Subscription to proceed.



If you decide to delete the hosting package and the domain name, the domain will be removed from your account at the end of the paid hosting term and placed into our holding account until the remainder of the current registration term has completed.

If you decide to delete the hosting package but keep your domain name, you will be required to pay the renewal fee for the domain. Your hosting package will remain active until the end of its paid term, then it will be deleted from your account.
If your domain is Third Party Hosted, please contact the host to delete your package with them after cancelling your domain.
What if I simply want to turn off the auto-renewal of my domain?
If you do not want your domain to automatically renew, you can contact our Customer Service team. They are reached through either our Customer Service phone line, at 1 (866) 497-3235 (24 hours a day, 7 days a week), or our online chats (9am-5pm EST, 7 days a week).