In order to forward your domain to a URL, please follow these steps:

Step 1.
Login to your Rebel account and click on My Account in the top right. Then click on Domain Manager.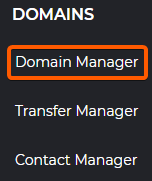 Step 2.
Click directly on your domain name to access the domain editing page.

Step 3.
To the right of the word Manage, select the DNS tab.

Step 4.
In the drop-down beneath Nameserver Information, select Forward Domain.



Step 5.
Enter the URL you wish to forward to in the box provided.



Step 6.
Click Save Changes in this section.

Note: If you are switching the Nameserver Information from Use Third Party Hosting to Forwarding on our nameservers, these changes may take up to 24-48 hours to take effect due to DNS propagation, though we typically find it's closer to 6-12 hours.