To add an FTP user to your hosting service please follow these steps:
Note
Following instructions cover the steps involved with creating FTP in your Pathfinder, Adventurer and Globetrotter Classic Hosting packages, if you have a Web Hosting package powered by Plesk please read our article How do I connect to FTP? - Plesk

Step 1.
Login to your Rebel account and select Hosting Manager.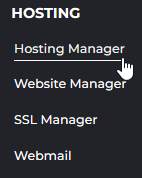 Step 2.
Click the green button that reads Control Panel. This will open the Hosting OS in a new tab.

Step 3.
Under Sections click FTP then click Add User.

Step 4.
Enter your FTP username and password then click Add. Please note that your FTP username will be in the format exampleusername.rebelexample.com



Here are your FTP settings:
Host Name: ftp.yourdomain.com
Username: yourFTPusername.yourdomain.com
Password: your FTP password for this user
Port: 21
Note: If you are using Dreamweaver you will need to enter Public in the Root Directory.